Buying a Perazzi
So, you've decided to treat yourself to a premium gun. There are numerous top-end manufacturers that will happily lighten your wallet, but one of the biggest names is Perazzi. So, why should you buy a new Perazzi and what is the buying process like?
Who are Perazzi?
Perazzi has a long heritage of producing top quality shotguns that have achieved unrivalled competition success. This includes a raft of Olympic medals (12 out of 15 medals at the 2012 Olympics) as well as a few world titles won by some chap called George Digweed. So, they seem to work well if you point them in the right direction.
The factory is based in Brescia, a picturesque region in northern Italy that is famous for gun manufacturing and is home to several major brands, including Beretta and Caesar Guerini.
Despite huge success the company is still owned and run by the Perazzi family, with Mauro Perazzi currently at the helm. This allows them to provide a unique service that makes you feel that you are joining the 'Perazzi family' when you buy one of their guns, rather than buying from a faceless multi-national.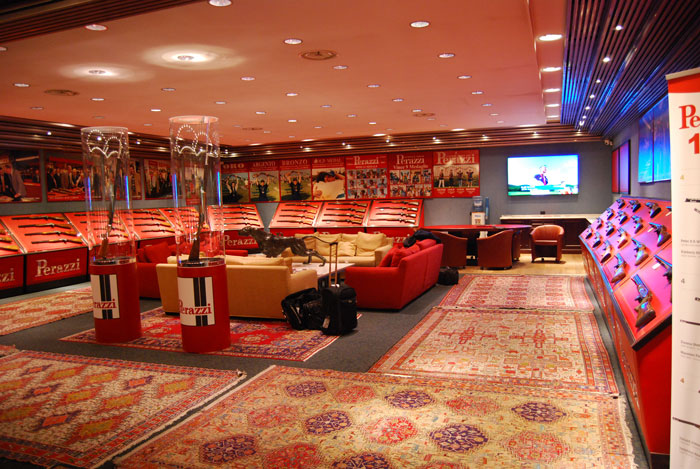 A perfect example of this was when I had a query about multi-chokes which David Thompson at Driven Sporting couldn't answer. He promptly passed the query onto RUAG (the UK distributors) who didn't know either so they passed it onto Perazzi. Within three hours of me sending my e-mail I received an answer from Mauro Perazzi himself! Try finding another international company that will provide service like that.
The Buying Process
Your first choice is whether to buy off-the-shelf or get one custom made. It won't cost any more to go down the custom route but it will take longer and you may have to factor in a trip to the factory for the woodwork (believe me it is a trip worth making). If you are prepared to wait then I would strongly recommend getting one made to your specification as you will be able to get exactly what you want, including a custom fitted stock which is invaluable.
The next thing that you have to decide is the model. There are numerous variants available but they are all based on three basic models. The MX12, which has a fixed trigger group with coil springs, the MX8, which has a detachable trigger group with either leaf or coil springs, and the new High Tech, which is a development of the MX8. Each model is available in Trap, Sporting, Skeet or Game styles and in 12b, 16b, 28b or .410".
The next step is where the fun begins. Assuming that you have decided to go for a custom Perazzi then you will get to choose every aspect of the gun, with most of the options included in the basic price. I'm not aware of any other manufacturer that comes close to the standard options that Perazzi offer. However, whilst this means that you can specify your perfect gun, it can also be a little daunting if you don't know exactly what you want. This is where some sound advice from someone like David Thompson at Driven Sporting becomes invaluable. David will guide you through the options and make sure that you get the right gun for you.
The Options
Here is a summary of the options that are included in the basic price of the gun:
Bore Size - The bore sizes range from 18.3mm to 18.9mm, you can even have a different bore in each barrel if you wish.
Chamber Length - The chamber can be either 2.75" (70mm) or 3" (76mm).
Barrel Length - Perazzi have three standard lengths of 29.5" (75cm), 30.75" (78cm) and 31.5" (80cm) but any length can be ordered including imperial sizes such as 30" and 32".
Barrel Weight - It is possible to specify your preferred barrel weight (within limits) or you can ask them to balance the gun for you.
Choke Size - Your choice of fixed chokes in both barrels ranging from 0 (cylinder) to 10 (extra full). Multi-chokes are available at extra cost.
Rib - There are numerous options for the rib including a standard flat rib, a fixed semi-high rib (ProTrap or ProTrap+), an adjustable semi-high rib (MX2000/3), a high rib (MX2005) and an extra-high rib (MX2008). Most ribs can be ordered as 11mm parallel or tapered 11mm to 7mm. The High Tech can also be ordered with a reverse tapered rib that is uniquely tapered outwards from the breech. You can also have the top of the rib flat or concave and with a 3mm tramline if you wish.
Mid-Bead - Mid-beads are not fitted as standard but can be requested.
Front Bead - There are several types of bead available including screw-in, long (in white or red) and a brass Game style.
Side Ribs - Side ribs can either be solid or ventilated and full or half length. It is also possible to order barrels with no side ribs (mainly used for Skeet guns).
Trigger Group - If you go for an MX8 based gun then you will get a removable trigger group and have the option of either flat or coil springs.
Action Colour - On most guns the action can be a blued or nickel finish.
Stock Dimensions - All of the stock dimensions can be specified so that it is made to your requirements.
Forend - There are numerous styles of forend which also come in different sizes to fit your hand.
Wood Finish - The wood can be finished in lacquer, oiled or it can be left bare if you want to finish it yourself.
Once you have chosen the no-cost options you can raid the long list of optional extras which include:
Multi-Chokes - One or both barrels can have multi-chokes and will be supplied with four flush or extended chokes for each barrel.
Action Colour - The action of the High Tech can be ordered in several different finishes with the lettering in assorted colours and you can even have a custom enamel flag on the base of the action.
Glove Grip - The stock can be ordered with a 'glove grip' which is fitted to your hand size.
Adjustable Comb - An adjustable comb can be specified in either wood or a synthetic material.
Adjustable Trigger Group - The standard trigger is not adjustable, however one can be specified as an option.
Barrel Porting - One or both barrels can be ported to help reduce recoil and/or muzzle flip.
Engraving - There is a vast choice of superb quality engraving (the more intricate designs will significantly increase the lead time).
Wood Grade - The quality of the wood can be upgraded and a specific piece of wood can be chosen during a factory visit.
As you can see the choices are practically endless which makes every gun unique and allows them to be perfectly tailored to your needs. The guns are produced using the latest technology but then each one is hand finished to a very high standard.
Placing the Order
Once you have battled your way through the options it is time to place the order, have a mild panic that you have made the right choices, and then sit back and wait.
Unfortunately this is a bit of an issue as you don't know how long you'll have to wait. Your dealer will give their best estimate based on previous experience but there are no guarantees and Perazzi will not give any form of delivery date. This is fine if you can get yourself into the Italian way of thinking - quality takes time and it will be ready when it's ready - but for me it was a little frustrating as I couldn't make any plans for the factory visit. Despite David's best efforts, I wasn't able to get any feedback from Perazzi until the gun was finished. This meant that there was a delay whilst I arranged my trip. It would be an improvement if Perazzi could provide a delivery date when a gun has been scheduled for manufacture, perhaps a month beforehand.
In my case, I ordered an MX2000 which took just over six months for the metalwork to be completed, ready for me to visit the factory and specify the woodwork.
The Factory Visit
As I have mentioned, a visit to the factory is highly recommended, not only do you get to specify the woodwork but you will also get the full 'Perazzi experience' which includes a showroom that contains practically every gun that Perazzi make (a quick count showed that there was well over £1 million worth of guns on show!) and an impressive shop stocked with high quality merchandise.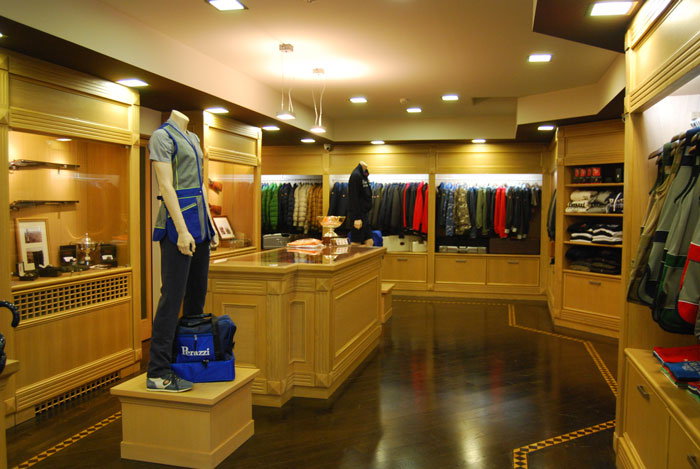 You can turn up to the factory without an appointment, however this can result in a long wait during busy times so it advisable to ask your dealer to make an appointment for you. Also, be prepared for lunchtime when the entire factory shuts for an hour (lights off and doors locked) and you will be asked to leave. Oh, and don't forget that they close in August... the whole of August. I told you that you have to get into the Italian way of thinking!
When you arrive on the shop floor you can see practically every aspect of the build, from the CNC machine making stocks to the engravers working behind a screen. It is difficult not to be impressed by the whole operation.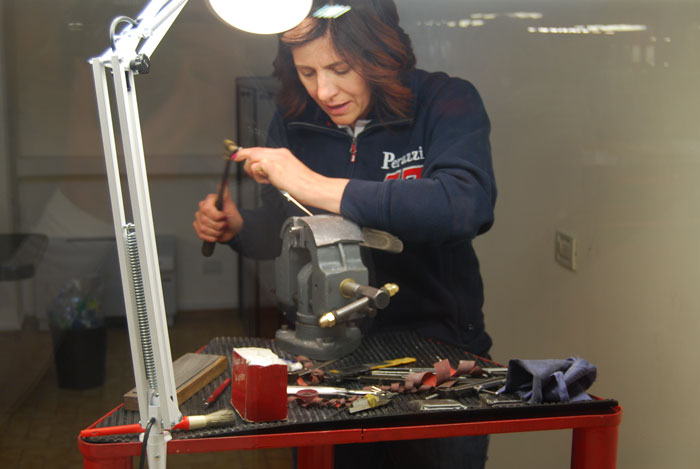 My finished metalwork was presented for me to inspect and I was pleased to find that everything was correct, including a minor change that I had made after placing the order, and the metalwork was beautifully made.
The next step was to be measured for the woodwork. This involved using a try-gun that was adjustable for height, length and trigger position. Although this process felt a little rushed, Fabrizio clearly knew what he was doing and I managed to achieve a nice fit with the exception of the glove grip which did not fit my hand. Fabrizio explained that they would use some basic measurements for the grip based on my hand size and then make some adjustments after the stock had been made.
Once the measurements had been completed it was time to choose my piece of wood. I had opted to upgrade to SC2 grade so I was shown to the premium storeroom where they had a fantastic selection of blanks for each grade. Child in a sweet shop sprang to mind.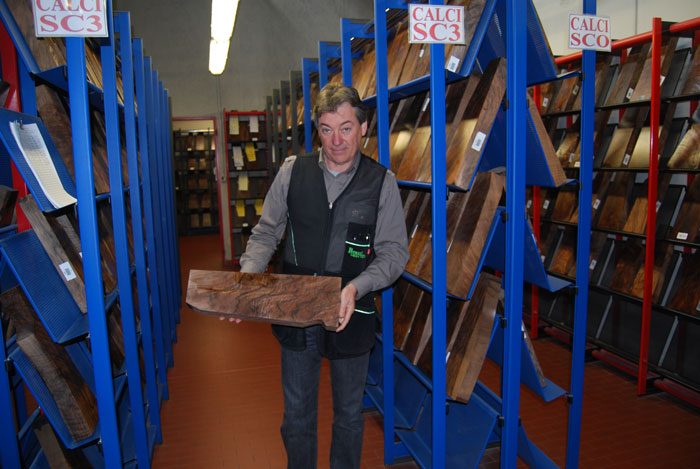 Unfortunately this is where I hit a problem. Having chosen a beautiful piece of wood I explained that I wanted the adjustable comb to be made from the same piece of wood (I had seen some examples where the comb had been made from a completely different piece that didn't match in colour or figuring and I wanted to avoid this). I thought that this would be fairly straightforward but it was not the case. The piece of wood that I had chosen was not big enough, despite being checked with a template, so it was back to the store room. After checking every other blank it became clear that none of them were big enough! Fabrizio was very helpful and explained that they would need to look in the warehouse for any suitable blanks.
After a short wait I was presented with just two pieces of wood to choose from. I was surprised that they only had two suitable blanks and find it hard to believe that it isn't standard practice to make the comb from the same blank on a premium gun.
However, it was clearly my lucky day as one of the blanks had beautiful figuring so my choice was easily made.
With all of my measurements taken and the wood chosen, I was told that my gun would be ready in a few hours so I opted to return the next day for the final fitting.
To say that I was pleased with the result would be an understatement, the gun looked fantastic and fitted me perfectly. My concerns about the glove grip were unfounded as it fitted my hand without any adjustment.
The next step was to test fire the gun on the pattern plate, which is situated in a tunnel next to the production area. I was pleased to find that the gun was comfortable and shooting exactly where I wanted, Fabrizio had done his job well.
The final step was for the checkering to be applied and the woodwork to be finished in lacquer, oil or left bare. I opted for the woodwork to be left bare so that it could be finished back in the UK.
That was it, the gun was complete and I had just one more choice to make. Did I want a black, red or silver case? Perazzi red of course.
Delivery
Once the gun was complete it was shipped to RUAG in the UK, then on to Driven Sporting and it was ready for me to pick up three weeks after my visit to the factory.
The entire process took eight months from me placing the order to receiving the gun in the UK. Apparently the wait is slightly less for standard guns with basic engraving but can be considerably longer for guns with intricate engraving.
Conclusion
So, was it worth all of the effort, cost and wait? Absolutely! There is no better way to get a tailor-made gun and, despite a couple of minor frustrations, I enjoyed the whole process.
I can also highly recommend the service from David at Driven Sporting and would like to thank him for all of his help and advice.
Charlie Dean